The tarpaulin is separately woven from PE or PVC fabric, and the inside and outside are overlapped and covered with LDPE lamination, which contains anti-ultraviolet, waterproof, tear-resistant and long life.
Both PE and PVC tarpaulins are dense mesh products assembled from fibers. PE and PVC tarpaulins are widely used in equipment, automobiles and construction sites as effective tools for waterproofing, rain and snow, wind and sun protection. Moreover, the tarpaulin is effectively suitable for outdoor environments, and is often used as rain and dust protection for swimming pools, garden materials, and farm materials.
Tuohua - Direct factory supply Tarpaulin, 20+ years manufacturer.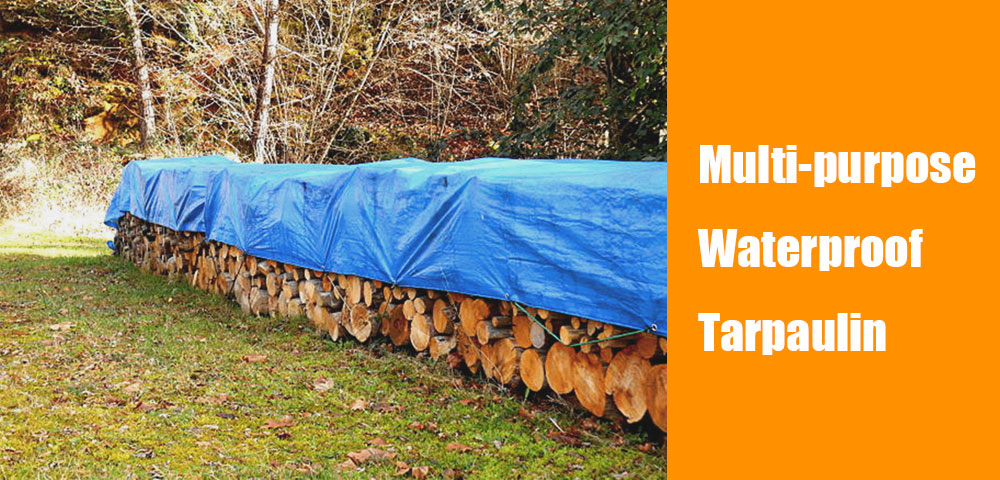 In order to facilitate the use of customers, customized options have been added, and reinforced black plastic corners and aluminum perforations have been added to the tarpaulin, which is convenient to use and stronger.
PE Tarpaulin with UV Made from HDPE fabric cross weaving,three layer total, laminated the both sides with LDPE coating. PE Tarpaulin are devices made from fibers woven in a grid-like structure. Some PE Tarpaulin
PVC tarpaulin is a plastic coated high-strength polyester tarpaulin is based on high-strength polyester canvas. PVC Tarpaulin material has been widely used as awnings, army tent, truck cover, truck curtain side
Transparent Leno Tarpaulin is made of HDPE woven fabric inside with both sides waterproof LDPE lamination coated with UV stabilizer. Transparent Leno Tarpaulin is consist of a reinforcement scrim protected
Round Tarpaulin also named pool Cover In ground Pool. Round Tarpaulin are devices made from fibers woven in a grid-like structure. Woven & Laminated polyethylene, waterproof & UV Protected. Grommets ever
 20+year Manufacture Experience.
 10+year OEM & ODM Experience.
 30+ Senior Sales in Service Team.
 100% Quality Assurance.
 100% Delivery On Time.
 100% Credit Assurance.
Production of Tarpaulin Supplier
Catalog Download of Tarpaulin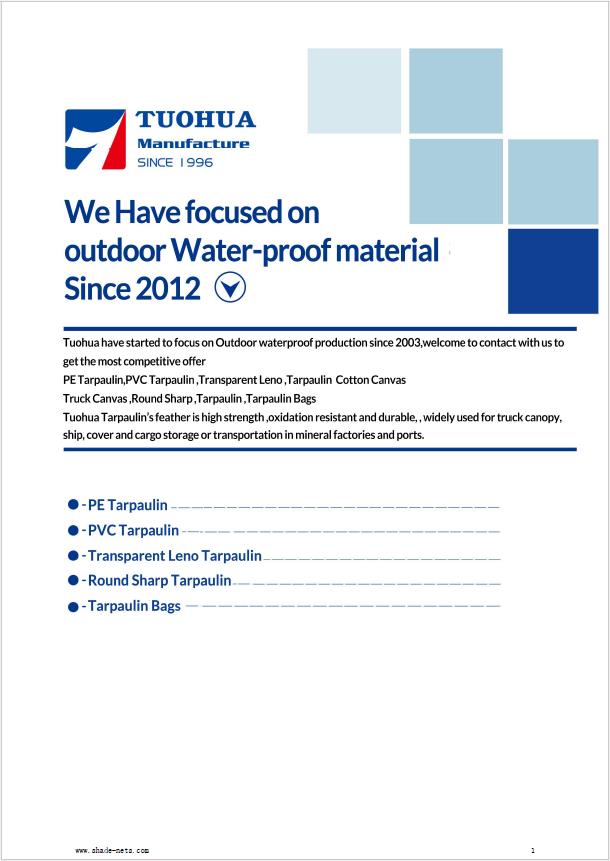 Catalogs of Windows Screen
OEM & ODM
High Quality
Competitive Price
Best Service
● Fiberglass Mosquito Screen
● Fiberglass Mesh
● Fiberglass Self-adhesive Tape
● PVC Corner Bead

Quality Assurance of Tuohua
 TuoHua Manufacturer regards quality as basic factor for Enterprise development.
 From the processing of our raw materials to the completion of the final product, we are committed to quality.
 innovation and a desire to go beyond the needs of customer.
 Strict quality control system, all products will be checked carefully at least 3 times.
 During the production, finished production and before loading by QC enables us to guarantee TOTALLY customer satisfaction.
Packing and Loading of Tarpaulin
 Rolls on cardboard tubes & wrapped in plastic with color label (or any customized).
 We can also provide OEM retail packaging, with a variety of styles for you to choose from.
 The inner bag or rolls of the retail version can be a plastic or net bag, and then it will be packed into a large carton or pallet.
Usually large cartons and pallet are packed into containers for shipment and consignment.